2007 Provost's Award for Scholarship—Alexandra Zevalkink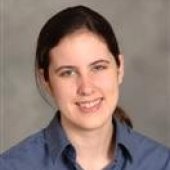 Alexandra Zevalkink
BS, Materials Science & Engineering
The Provost's Award for Scholarship is given to a senior who best represents student scholarship at Michigan Tech. This outstanding student is considered excellent not only by academic standards, but also for participation in research, scholarship activity, levels of intellectual curiosity, creativity, and communication skills.
Recipient's Bio
Alexandra is the perfect example of a Scholar. Her academic performance has been excellent, as demonstrated by her 4.0 overall grade point average. She has already completed a Modern Language Minor in German and is pursuing a concentration in the Aerospace Enterprise. She received a research fellowship from the National Energy Technology Laboratory in Morgantown, West Virginia for the summer of 2006 and this year she was named one of the McArthur Research Interns in the Department of Materials Science & Engineering. Furthermore, she has just received a Student Undergraduate Research Fellowship for the summer of 2007.
Dr. Mark Plichta, Chair of Materials Science & Engineering describes Alex as very friendly and is always willing to help others in any way she can. She also has a wide range of interests, including skiing and hiking—and she has completed 300 miles of the Appalachian Trail.