2007 President's Award for Leadership—Elizabeth Molnar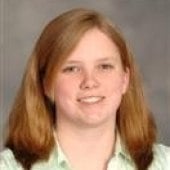 Elizabeth Molnar
BS, Management Information Systems
The President's Award for Leadership is given to a student who is chosen from an outstanding group of nominees that have provided leadership for their peers in their activities while a student at Michigan Tech.
Recipient's Bio
In her four years in Army ROTC, Beth has held several leadership positions as Cadet Battalion Commander, where she was responsible for everything in the Battalion during the 2006 fall semester, to Training Officer, where she planned and coordinated all training events for the Cadet Battalion, to serving as Color Guard commander, where she led a group of cadets in posting the Colors at football games, commencement ceremonies, and leading the Parade of Nations.
She spent two years serving on the Undergraduate Student Government (USG), one as a sophomore representative and another as Vice President.
While serving as President for Association of Information Technology Professionals (AITP), she planned and coordinated a Career Fairs Dinner for Business and Economics students and coordinated programming competition for local high school students.
Other organizations she has been involved with are IT/OX Enterprise, Order of Omega Greek Honor Group, Alpha Sigma Tau's Philanthropy Chair, Blue Key Honor Society, captain and team member of various intramural sports, president in her residence hall, Circle K Service Organization, Little Brother's Friends of the Elderly, and the England Cadet Exchange Program.
But even with all this involvement, this year's award recipient states "I feel the largest impact I have made on campus has been dedication through the activities where I did not belong to a specific organization at the time. From being a Teaching Assistant for a UN1010 class, to giving up a week of my Winter Break to go back to LeaderShape a second time to serve as an On-Site Coordinator, to bringing up MCRI and BAMN speakers to inform students on the civil rights issue before elections, to being an Orientation Team Leader for three years. I have learned not only when to be a leader, but when to be a follower, time management, how to plan events, to delegate tasks, to keep others involved, communication skills, and last but not least to have fun."