2006 Vice President for Student Affairs' Award for Service—Hans Korth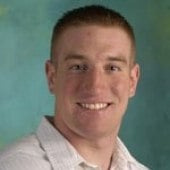 Hans Korth
BS, Mechanical Engineering
The Vice President for Student Affairs' Award for Service is given to an undergraduate Michigan Tech student who has performed volunteer services which have provided both benefits for the people served, as well as valuable learning experiences for the student.
Recipient's Bio
Hans started out his first year at Michigan Tech by volunteering through AFROTC and has continued to provide service to the campus and community.
He is a regular volunteer with Little Brothers Friends of the Elderly and does things like cut, split and deliver firewood, as well as help elderly people clean their homes.
He has volunteered in the community school system, by helping with book fairs and school carnivals.
He has assisted with three area youth programs: the Day of Challenges and the Husky Challenge drill competition, events which are designed to build confidence and a sense of accomplishment in children. Also, he has assisted with the Alcohol Free Weekend in the SDC, which provides an environment without drugs and alcohol for local junior and senior high school kids.
With the Copper Country Humane Society, he not only walks dogs, he has helped organize the Crazy Dog Triathlon. With the Red Cross, he is a regular donor and volunteer. And he currently is helping to organize a 5 and 10K run to raise money for a 5 year old who is suffering from cancer.
On campus, he has volunteered as a student recruiter for the University through the Ambassador Program, Preview Day, and AFROTC. He has cleaned up litter for Make A Difference Day. He is also the president of McNair Hall Association, where he lead a charity date auction that raised money for Tulane University, to help them get back on their feet after Hurricane Katrina.