2006 Provost's Award for Scholarship —Adam DeConinck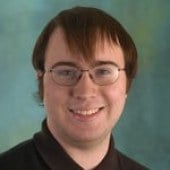 Adam DeConinck
BS, Physics
The Provost's Award for Scholarship is given to a senior who best represents student scholarship at Michigan Tech. This outstanding student is considered excellent not only by academic standards, but also for participation in research, scholarship activity, levels of intellectual curiosity, creativity, and communication skills.
Recipient's Bio
Adam is intellectually curious, striving to master material on a fundamental level. Not content to simply absorb material in class, he has actively pursued learning by getting involved with research projects. In 2004, he received an award from the Michigan Space Consortium for his proposal "Synthesis of Carbon Nanotubes for uses in Advanced Space Propulsion." That work with Dr. Yoke Khin Yap has resulted in a publication "Stability of field emission current from various types of carbon nanotube films."

The following summer, he worked at Michigan State University in the Research Experience for Undergraduates program, investigating the structure of CMR manganites. He is currently working with Dr. Miguel Levy, designing experiments to probe photonic structures. He has also worked as a teaching assistant in the physics labs.

Adams's extracurricular activities include playing in the Pep Band, serving as Treasurer for the Society of Physics Students, and being president of the Fencing Club, where he also serves as the beginner's class instructor.

In the short time that he has been at MTU, he as made significant contributions to three research groups, gained teaching experience, and been a leader in two student organizations.