2006 President's Award for Leadership—Adam Peckens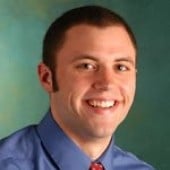 Adam Peckens
BS, Geology
The President's Award for Leadership is given to a student who is chosen from an outstanding group of nominees that have provided leadership for their peers in their activities while a student at Michigan Tech.
Recipient's Bio
Over the past three and one-half years, Adam has been actively leading in both the academic and co-curricular arenas, with experiences such as the Geology Club, Inter Residence Hall Council, Wadsworth Hall Student Association, First Year Experience House, and serving as a Teaching Assistant for several courses.
In the Geological and Mining Engineering and Sciences Department, he is an executive member of the Geology Club and a Teaching Assistant.
In IRHC, he served as the residence halls National Communications Coordinator (NCC) where he organized a delegation of Michigan Tech students to attend a regional hall council conference and presented a session for the delegates. He also helped to expand IRHC programming by being a co-founder of the annual Trivial Pursuit Tournament, Fall Frisbockey league, and the Broomball Hot Cocoa Shack.
Adam served as Wadsworth Hall Student Association President during his sophomore year.
He feels the largest impact he has made on campus has come through his four years of dedication to the First Year Experience (FYE) program, where he has been a hall member, the house president, a peer mentor and the program coordinator. He has worked at making FYE an exceptional program by continuing the hall's traditions, while introducing new programs and a sense of belonging to everyone in the community.
In conclusion, he says " I am privileged to have had such unique opportunities to grow in my own leadership abilities at Michigan Tech. I hope that my efforts to pass on my knowledge, ideas, and enthusiasm will result in stronger leaders for Michigan Tech's future."