Gallery
Our galleries offer dynamic exhibits that showcase the work of engaging artists – from local to international. We strive to offer diverse programming that supports our students and our community. The Rozsa Galleries are divided into three main spaces: The Concourse, A-Space, and gallery b.
The Concourse
The Rozsa Gallery Concourse hosts an annual Featured Artist Series. This series showcases exceptional visual artists from Michigan's Upper Peninsula. Two artists are invited each year to exhibit their work; their exhibits run for the academic year. Artists are invited to exhibit in The Concourse based upon their artistic merit, their long-term contributions to the community, and the ways their work supports the creative, educational goals of Michigan Tech's Department of Visual and Performing Arts.
A-Space
Hosting two curated exhibits each year, local, regional, national, and international artists are invited by our curator into these exhibits. A-Space strives for diverse, engaging, and thoughtful programming that supports contemporary artists and deepens our student's learning. A-Space shares a wall with gallery b, our student gallery classroom. This offers special opportunities for our students to observe and participate in the galleries year-round.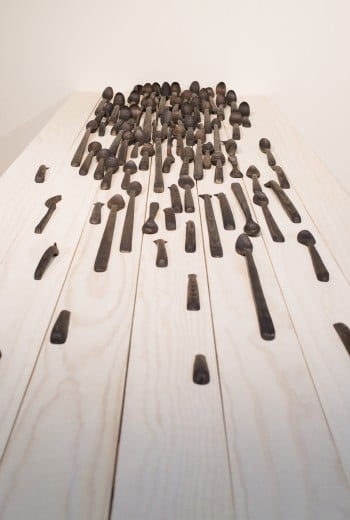 The Independent Exhibition Series
The A-Space Gallery also hosts one-to-two applied exhibits, known as The Independent Exhibition Series, to build opportunities for our local artists to display their work. The A-Space Independent Exhibition Series is designed to showcase the work of local artists and arts educators, and to increase flexibility in our gallery programming.
Faculty, students, and community members can apply to exhibit in this series. Applications for solo and group exhibitions are considered. Applications must be submitted at least 6 months In advance. If you would like to be considered for an A-Space Independent Exhibition, please contact our Gallery Director, Lisa Gordillo, gordillo@mtu.edu.
gallery b
gallery b, our alternative arts classroom, is part of a larger arts-initiative, Project Learning Lab. This initiative provides students the chance to create works of art outside of a traditional classroom, with special attention to architecture, installation, and community spaces. gallery b hosts two student exhibitions each semester: a mid-semester showcase of works-in-progress and a final showcase of completed works.
Apply to Exhibit/Nominate an Artist
Applications are accepted for two A-space Independent Exhibitions each year. Artists, faculty, community members, and students at all stages in their careers are encouraged to apply. For application information, please contact our Gallery Director, Lisa Gordillo, gordillo@mtu.edu.
Our A-Space, Professional series and our Concourse exhibitions are curated exhibits. We welcome nominations of artists that our community would like to consider. To put forth a nomination, please contact our Gallery Director, Lisa Gordillo, gordillo@mtu.edu.
Tour Past Exhibits
Flats and Rounds
Artists: Sarah Hewitt and Kathleen McCloud
Location: A-Space, Fall 2016
A dynamic exhibit of colors and textures in paper, fiber, and print, by two artists whose work explores gender and mythology.
---
so not a goddess
Artists: Sarah Hewitt
Location: Rozsa Lobby, Fall 2016-Spring 2017
A weaving installation created for the Rozsa lobby during Hewitt's residency.