Distinguished Lecture Series
The Distinguished Lecture Series started in Fall 2016 to honor faculty for their research impact. Department chairs, center/institute directors, deans, and Research Advisory Council members nominate highly engaging presenters with broad topic appeal. Distinguished Lecturers are selected for their ability to increase the knowledge of our community by connecting their research with societal and community concerns. Topics are broad spanning all colleges and schools at Michigan Tech. Nominees are reviewed by committee twice per year and announced at the beginning of fall and spring semesters.
Fall 2017 Distinguished Lecturer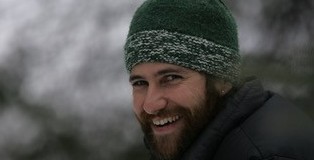 Dr. John Vucetich was nominated by Dr. Terry Sharik, dean of the School of Forest Resources and Environmental Science, and was selected from a highly competitive pool of candidates.
His lecture, It's Not About Wolves: Interdisciplinary Knowledge for a Sustainable, Just and Prosperous World, will be presented at 4 p.m. Nov. 7, in MUB Ballroom A.

Sharik writes in his nomination: "John is a world-renowned researcher on predator-prey relations and especially on the role of wolves in regulating ecosystems, based mostly on his work on wolves and moose on Isle Royale—the longest running predator-prey study in the world. He has trained numerous graduate students and collaborated with scientists from around the world. Because of the charismatic nature of wolves and the emotional responses of people to them, and because much centers around whether or not to protect them, John's work also bridges animal population dynamics and ethics. He is published in Science, Frontiers in Ecology and Evolution, and other prestigious journals. His research is funded by NSF and others. John has given hundreds of presentations spanning the gamut from scientists to ordinary citizens, and developed several videos on his work that have received high praise. His delivery style is one of serenity, thoughtfulness and humility." View Presentation Video Event Photos
---
Dr. Simon Carn was nominated by Dr. John Gierke and selected from a highly competitive pool of candidates as the Spring 2017 Distinguished Lecturer. His lecture, about Satellite Remote Sensing of Active Volcanism, was presented in April 2017.
Volcanology – the study of volcanoes – is a truly multidisciplinary endeavor that encompasses numerous fields including geology, physics, chemistry, material science and social science. Arguably, Michigan Tech owes its very existence to volcanic activity, which is ultimately responsible for the area's rich copper deposits and the development of mining in the Keweenaw. Event Photos
---
Dr. Richelle Winkler gave the inaugural Michigan Tech Research Forum Distinguished Lecture in October 2016. She discussed Making Research Matter: Democratizing Science and Other Lofty Goals.
Professor Hugh Gorman nominated Winkler, an associate professor of sociology and demography, for "community engaged scholarship" that extends across the Michigan Tech campus.
Examples of Winkler's projects include examining the feasibility—social and technical—of using mine water for geothermal heating systems in Calumet and examining the social, economic, and technical aspects of improving recycling in Houghton County. Event Photos