Michigan Tech Receives $100,000 from General Motors
By Jennifer Donovan | Published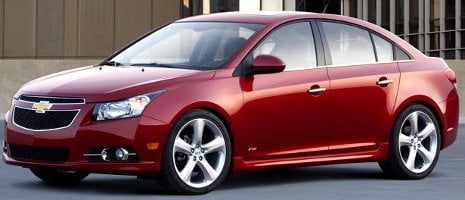 Michigan Technological University recently received a $100,000 gift from the General Motors Foundation, a long-time University supporter.
The gift will fund a variety of student activities. Among them are the Advanced Hybrid Electric Vehicle and Advanced Motorsports Enterprises, several senior design teams, student groups and diversity programs.
General Motors Company recently donated a 2011 Chevy Cruse for hybrid engine/vehicle testing, research and education in the Advanced Power Systems Research Center.
"The General Motors Foundation is proud of its long standing affiliation with Michigan Tech," said Kurt Wiese, GM's executive director, Global Manufacturing Engineering. "This grant furthers our support of Science, Technology, Engineering and Math (STEM) education. We look forward to continuing our support of Michigan Tech students through engineering projects and diversity initiatives.
"Michigan Tech is very fortunate to have General Motors and the General Motors Foundation as partners in these endeavors," University President Glenn Mroz said. "Thousands of alumni and students have benefited from GM and GMF's support of our programs."
GM and GMF donations support the Generations of Discovery capital campaign. Vice President for Advancement Shea McGrew reported that the campaign has attracted $195 million in gifts and pledges toward its goal of $200 million by June 30, 2013.
Michigan Technological University is a public research university, home to more than 7,000 students from 60 countries. Founded in 1885, the University offers more than 120 undergraduate and graduate degree programs in science and technology, engineering, forestry, business and economics, health professions, humanities, mathematics, and social sciences. Our campus in Michigan's Upper Peninsula overlooks the Keweenaw Waterway and is just a few miles from Lake Superior.