Tech's Musical Road Warriors
By Kevin Hodur | Published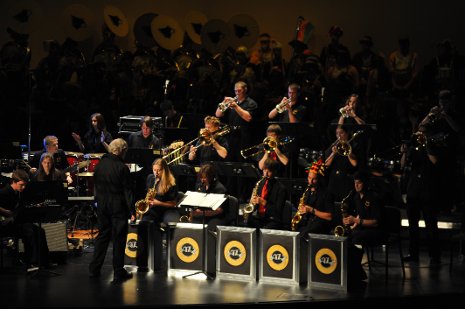 A bus full of Michigan Tech students traveling hundreds of miles to perform is not out of the ordinary—if the travelers are athletes. But would you expect that bus to be full of musicians?
Michigan Tech's Jazz Lab Band just returned from a regional tour they've done every year since 1969. This year, they played in Iron Mountain, Mich., and Suring, Freedom, Pulaski, Sun Prairie, Stevens Point and Rhinelander, Wis., all in just four days.
Michael Irish, director of the 18-piece ensemble, commented, "to give you an idea of how hard our kids work, keep in mind that [professional] bands only do one gig per day. We never do less than two."
More than 3,000 people heard these performances, and the band averaged 200 miles per day on the road.
Irish lauds the ensemble's legacy. "Our students are passionate, excited and dedicated road warriors who have a 40-some year tradition to live up to," he said. "They have unsurpassed zeal for spreading the 'word' about jazz as America's only original musical art form. The quality of their music-making is very high, especially since we have no music majors at Tech."
In the early years, students used their own vehicles to get from place to place. Now, the self-funded ensemble uses a charter bus. "It is very expensive," Irish said. "Each year we have to do extensive fund-raising to continue our efforts. Our history is every bit as colorful and meaningful as any of the athletic programs. Yet, we pretty much fly under everyone's radar."
Some of the communities where the band played face similar challenges. The Rhinelander school district, in particular, is facing a loss of arts and athletics programs due to a budget shortfall. "The school district is facing a February referendum to raise $1.5 million to fund their school system," Irish said. "The Rhinelander school district stands to lose all of its arts programs—even basic ones—and athletic programs unless they pass this referendum to raise their own tax money."
Constance Piasecki is band director at Rhinelander High School, where the Jazz Lab Band not only performed, but also mentored their student band. She said the "outstanding ensemble began their visit by working directly with the Rhinelander High School jazz ensemble students, helping us prepare our festival music… I am very appreciative of Mike Irish and his band coming to Rhinelander."
Not only do band members pass on knowledge and experience to younger students, but they also get to know each other better. Kyle Frazier, a member of the Jazz Lab Band, appreciates the opportunity the annual tour provides. "Not only is it a chance for us to visit different places and do something that we all enjoy, but it's the first real chance for the band to bond, which is probably the best part for all of us. We don't get to bond much during the rest of the year; the only time we really see each other is during rehearsal. So this allows us to create a lot of great relationships and memories."
Back on campus, the student musicians returned to their regular rehearsal schedule. Their recent Jazz Cabaret night transformed the backstage area of the Rozsa Center into an intimate jazz club setting. With regular performances scheduled through the end of the semester, there are a number of opportunities for the local community to discover one of Tech's best-kept secrets. As for Irish and his students, he says notoriety and campus fame isn't their goal. "It's about the music."
Visit www.mtu.edu/vpa/events to keep track of concerts from the Jazz Lab Band and all Visual and Performing Arts performances.
Michigan Technological University is a public research university, home to more than 7,000 students from 60 countries. Founded in 1885, the University offers more than 120 undergraduate and graduate degree programs in science and technology, engineering, forestry, business and economics, health professions, humanities, mathematics, and social sciences. Our campus in Michigan's Upper Peninsula overlooks the Keweenaw Waterway and is just a few miles from Lake Superior.