Tech Teaches Creativity of Many Kinds
By Kevin Hodur | Published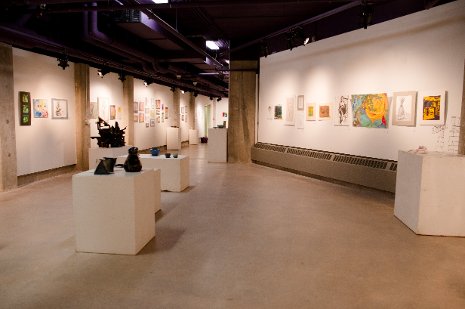 Last week two very different expressions of the talent of Michigan Tech students were on display for all to see.
In the Van Pelt and Opie Library, the third floor was transformed into the Undergraduate Expo, a sea of posters and prototypes, wave after wave of innovative designs, engineering solutions, and excited and proud students from Enterprise and Senior Design. Their work is a testament to the value of a Tech education.
At the east end of campus, though, tucked away on the garden level of the Rozsa Center, is another testament. The annual Student Art and Design Show is an exhibition of the fruits of the creativity of students taking courses in Visual and Performing Arts (VPA). With all of the technical talent on campus, it's sometimes easy to overlook the artistic creativity abundant in Tech students.
Like the Expo participants, the students whose work is in the show come from all across campus. "I bet I've taught students from every major here," says VPA instructor Susanne Kilpela. "Or just about. Only a couple of my students are VPA majors."
Without a visual art degree at Tech (there is an art minor, as well as majors in audio production and technical theater), students instead take classes like 2-D design and creative watermedia to stretch their creativity.
"They want to do something different," Kilpela says. "They want to create. It pays off, too. I had a student in the fall who got a job because he took a ceramics class. The company was looking for people who could think outside the box."
Sara Goodell, an exercise science major with a minor in art, sees that same value in creativity. "We as humans are happier when we create, when we can make something instead of just consuming," she says. "It makes us whole."
Goodell's work was awarded a special jury prize in the student art show. She wants to pass on what she has learned, emphasizing the practice of creating. "Human beings are made to create," she observes.
That creativity, abundant in both the gallery and at the Expo, combines the knowledge Tech students acquire through hard hours in the classroom and lab with the innovation that comes from leadership and the ability to see things a different way.
Brandy Tichonoff, who is completing her degree in communication, culture and media, placed first in the 2-D category with her painting, "Birdhouse in My Soul." She sees how creativity meets practice every day. "If you want to lead, you have to not only know how to do your job, but you also have to be able to see what has to come next," she says. "Creativity and vision go hand in hand."
Kilpela, meanwhile, embraces the way her work contributes to a Tech education. "In this day and age, more than ever, we have to think creatively. It has to be in education." She pauses. "I mean, how do we learn to be creative, how to see, how to innovate, if we don't practice?"
The Student Art Show in the Rozsa Center garden level continues through Thursday, April 25. Gallery hours are 8a.m. to 8p.m.
Michigan Technological University is a public research university, home to more than 7,000 students from 60 countries. Founded in 1885, the University offers more than 120 undergraduate and graduate degree programs in science and technology, engineering, forestry, business and economics, health professions, humanities, mathematics, and social sciences. Our campus in Michigan's Upper Peninsula overlooks the Keweenaw Waterway and is just a few miles from Lake Superior.