Michigan Tech Cadet Receives Air Force Research Award
By Marcia Goodrich | Published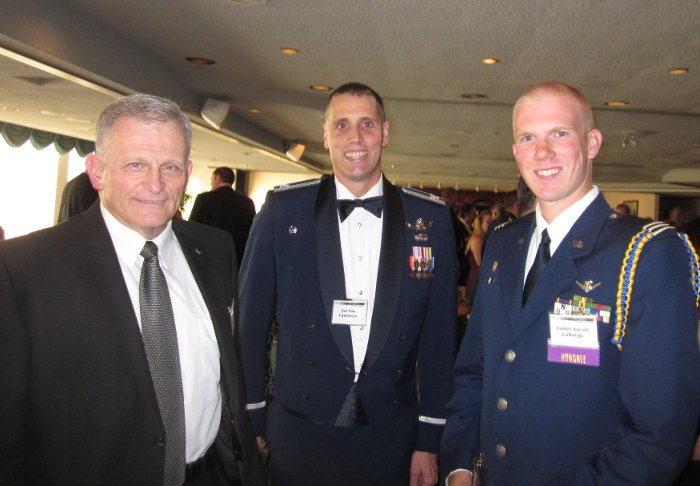 Michigan Technological University's Jacob LaSarge has received the prestigious US Air Force Cadet Research Award, presented annually to one Air Force cadet in the nation.
The Air Force chief scientist selects the winner from among nominees submitted by the nation's 145 ROTC detachments.
LaSarge, a mechanical engineering senior and Air Force cadet, was chosen for the leadership and technical ability he exhibited as project manager of the Oculus-ASR Nanosatellite effort. The project is under the umbrella of Michigan Tech's Aerospace Enterprise.
The all-student group has developed a prototype satellite as part of the Air Force Research Lab's University Nanosatellite 6 competition. It was among 11 teams the AFRL hand-picked from universities across the US to design and build a small satellite ("nanosat"). In January 2011, the Michigan Tech group took first place in the competition, winning the right to further develop its nanosat with the ultimate aim of having it launched into orbit.
"The outstanding leadership and technical expertise provided by Cadet LaSarge has advanced this project further than anyone had imagined," said Lt. Col. Michael Brothers, head of Aerospace Studies and commander of the Air Force ROTC program at Michigan Tech. "Jake is an outstanding student-leader and is truly deserving of this recognition."
LaSarge joined Michigan Tech's nanosat project in fall 2010 as part of the guidance, navigation and controls section. After a semester, he took charge of the group, and in spring 2011 assumed leadership of the entire team when the project manager position became available.
"Jake is responsible for over 70 undergraduates and a $200,000-plus budget for research and development," Michigan Tech's Aerospace Studies faculty wrote in nominating LaSarge for the award. "He skillfully motivates other college students (who don't get paid to work) in order to complete tasks and milestones, with the goals of being on time, under budget and efficient in transition."
Their nanosat, Oculus-ASR, was designed to help the AFRL improve "space situational awareness": "detecting everything that's orbiting, from space junk to other nations' satellites," LaSarge explained. "The Oculus-ASR satellite, specifically, is for calibrating telescopes, which will make it easier for the Air Force to detect, identify, and classify space objects. We are trying to have it flight-ready by December."
Though Oculus-ASR probably won't be shot into orbit for another year or two, it has already yielded benefits. "I've certainly learned a lot," said LaSarge. And Brothers notes that the US Air Force has adopted several innovations developed by the Oculus team.
LaSarge accepted the Cadet Research Award Aug. 23 during ceremonies at Wright-Patterson Air Force Base, in Dayton, Ohio.
Michigan Technological University is a public research university, home to more than 7,000 students from 54 countries. Founded in 1885, the University offers more than 120 undergraduate and graduate degree programs in science and technology, engineering, forestry, business and economics, health professions, humanities, mathematics, and social sciences. Our campus in Michigan's Upper Peninsula overlooks the Keweenaw Waterway and is just a few miles from Lake Superior.