Employers Are Hungry for Michigan Tech Students
By Jennifer Donovan | Published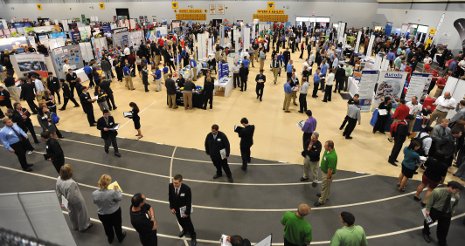 Michigan Tech's fall Career Fair last week attracted 888 recruiters representing 280 companies. They conducted 4,186 interviews for jobs, internships and co-ops.
The Career Fair was the third largest in the history of career fairs at Michigan Tech. "But the factor that made this fair unique was how hungry the employers were for our students," said Jim Turnquist, director of career services. Prior to the Fair, many companies held special recruitment programs to attract students. Kohler sponsored a picnic on the lawn outside of the Memorial Union. Mercury Marine offered boat rides on Portage Lake, hosting more than 200 students. General Motors and Chrysler conducted "Ride and Drives," offering students an opportunity to drive a 2013 Camaro, Corvette, Cadillac or other GM or Chrysler vehicle.
The day of the fair, students packed both the basketball gym and the multipurpose room of the SDC. Turnquist estimated that more than 3,000 students turned out, dressed in their best and with hands full of resumes, to meet potential employers.
"Many of the employers mentioned that Michigan Tech students were some of the best prepared students they have met at any job fair," Turnquist said. "Usually, they said, they see students dressed in jeans, shorts and T-shirts, but not at Michigan Tech. Our students acted and dressed professionally. The employers even commented on how well most of the first-year students were prepared for the Career Fair."
"Is the excellent turnout at our Career Fair a sign that the economy is turning around?" Turnquist added. "Maybe. Or it is a sign that Michigan Tech students offer the skills the companies want and need?"
Michigan Technological University is a public research university, home to more than 7,000 students from 54 countries. Founded in 1885, the University offers more than 120 undergraduate and graduate degree programs in science and technology, engineering, forestry, business and economics, health professions, humanities, mathematics, and social sciences. Our campus in Michigan's Upper Peninsula overlooks the Keweenaw Waterway and is just a few miles from Lake Superior.