Clean Snowmobile Challenge Kicks Off Next Week
By Marcia Goodrich | Published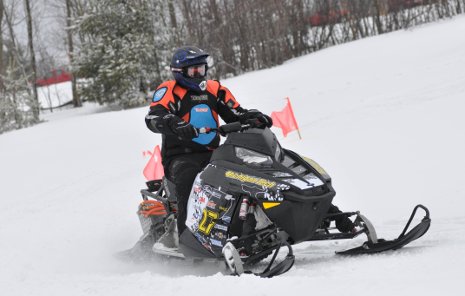 With about a foot of heavy, new snow on the ground, Michigan Technological University is gearing up for the 13th annual SAE Clean Snowmobile Challenge, set for March 5-10 at Michigan Technological University's Keweenaw Research Center.
The Clean Snowmobile Challenge is a collegiate design competition of the Society of Automotive Engineers. A total of 12 teams are registered in the internal combustion category. Engineering students from participating schools take a stock snowmobile and reengineer it. Their aim: to reduce emissions and noise and increase fuel efficiency while preserving the riding excitement demanded by snowmobile enthusiasts.
Five teams are entered in the zero-emissions category, for battery-powered sleds, which is sponsored by the National Science Foundation. NSF uses electric snowmobiles while conducting atmospheric research in pristine arctic locations.
The public is welcome at a number of events, including the Grand Opening ceremony, which begins at 10 a.m., Tuesday, March 6, at the Keweenaw Research Center, near the Houghton County Memorial Airport. After the ceremony, teams in the internal combustion division will begin the Endurance Run, which includes a ride up to Copper Harbor.
On Wednesday, March 7, the teams will have their sleds on display from 6 to 8 p.m. at the Copper Country Mall. Everyone is invited to view the entries and talk with the participants about their design strategies.
On Saturday, March 10, the Polaris Acceleration Event begins at 10 a.m., followed by the Polaris Handling Event at 11 a.m. In addition, the zero-emissions entries will undergo their Acceleration and Load Test at 11 a.m. All three events are held at the Keweenaw Research Center Test Course.
The Awards Banquet is held at 6:30 p.m., Saturday, March 10, in the Memorial Union Ballroom on the Michigan Tech campus. Tickets are $25 and may be purchased by contacting the Keweenaw Research Center, 906-487-2750.
Fuel economy—no matter what recipe the fuel—is again a top priority in this year's Challenge. Sleds in the internal combustion category will need to adapt to fuels with a range of ethanol concentrations, from E10 (10 percent) to E39 (39 percent). "If a team doesn't design for that, they won't do well," says Jay Meldrum, co-organizer of the Clean Snowmobile Challenge.
The teams that have registered for the Challenge in the internal combustion category are Clarkson University, Potsdam, N.Y.; École de Technologie Superieure, Montreal; Kettering University, Flint; Michigan Tech; North Dakota State University; Northern Illinois University; State University of New York at Buffalo; and the Universities of Alaska Fairbanks, Idaho, Waterloo (Ontario), Wisconsin-Madison and Wisconsin-Platteville.
Teams registered in the zero-emissions category are McGill University, Montreal; Michigan Tech; South Dakota School of Mines and Technology; the University of Alaska Fairbanks; and the University of Wisconsin-Madison.
The Clean Snowmobile Challenge is sponsored at Michigan Tech by the Keweenaw Research Center and the Department of Mechanical Engineering-Engineering Mechanics.
For more information, visit Michign Tech's Clean Snowmobile site.
Michigan Technological University is a public research university, home to more than 7,000 students from 60 countries. Founded in 1885, the University offers more than 120 undergraduate and graduate degree programs in science and technology, engineering, forestry, business and economics, health professions, humanities, mathematics, and social sciences. Our campus in Michigan's Upper Peninsula overlooks the Keweenaw Waterway and is just a few miles from Lake Superior.