Steel Bridge Team Earns 2 Firsts, Fourth Overall in National Competition
By Jennifer Donovan | Published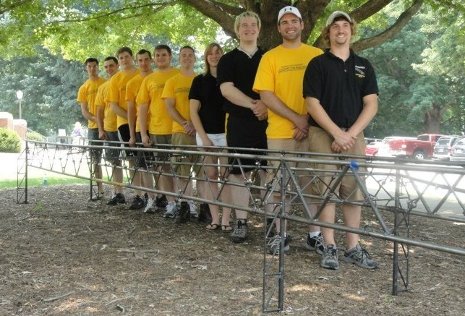 Michigan Tech's Steel Bridge team brought home two first places and placed fourth overall in the National Student Steel Bridge Competition competition at Clemson University May 25-26. The Tech team earned first places for lightness and construction efficiency.
Teams from 47 universities in the US, Canada, Mexico and China competed in the national event, sponsored by the American Institute of Steel Construction and the American Society of Civil Engineers. They had to design a bridge strong enough to hold 2,500 pounds and span an imaginary river, while minimizing the amount of steel used and construction time.
Teams were scored on how long it took them to assemble their bridges compared to the number of team members working on them, how much their bridges weighed, how little their bridges deflected when weight was added, and whether their structures could hold 2,500 pounds. The aesthetics of the bridges also affected the final score.
Tech's team spent two months designing their 22-foot bridge, another three months fabricating each part and a month practicing assembling the bridge in the shortest possible time.
Then they participated in a regional practice run in the spring, and the top two teams advanced to the national competition.
"The team did an absolutely terrific job," said Adam Newton, a graduate student in civil engineering and team captain. "Everyone was responsible for achieving the spectacular results of two first place finishes and a 4th place overall at the National Student Steel Bridge Competition. During practice the day of the competition, the assembly team had its fastest run ever, and at the competition itself, the assembly team scored its second fastest build time. I am very proud of the team and their accomplishments."
Faculty advisor Devin Harris (CEE) agreed. "Overall, they did a great job and proved that Michigan Tech is always going to be a major player in this competition," he said.
Team members in addition to Newton were Patrick Grodecki, Matt Schwalen, Alex Seidl, Keven Rey, Nate Schultz, Brandon Abel, Andrew Erickson, Ellen Englund, Wes Karras and Joel Ortman.
Michigan Technological University is a public research university, home to more than 7,000 students from 54 countries. Founded in 1885, the University offers more than 120 undergraduate and graduate degree programs in science and technology, engineering, forestry, business and economics, health professions, humanities, mathematics, and social sciences. Our campus in Michigan's Upper Peninsula overlooks the Keweenaw Waterway and is just a few miles from Lake Superior.