What Makes Our State Great? Michigan Tech's Winter Carnival!
By Marcia Goodrich | Published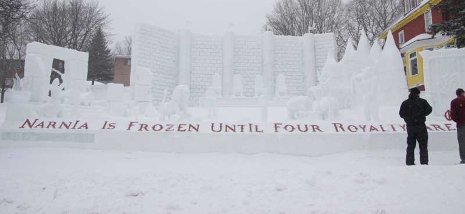 "From All Over the State, What Makes Michigan Great" is the theme for Michigan Tech's 2012 Winter Carnival, and this annual festival of frozen fun is definitely one of the greatest events in the Great Lakes State.
There's lots more to Michigan Technological University's Winter Carnival than statues, but these elaborate concoctions of snow and ice are what attract thousands of visitors to Houghton every year. Carnival is organized by the Blue Key Honor Society.
Snow statues, Feb. 8-11
Student organizations competing in the month-long snow statue category have been crafting on their intricate works of icy art since one minute after midnight on Jan. 6. On Wednesday, Feb. 8, they will be joined by dozens of other student groups competing in the All-Nighter category. From 10 p.m. until 8 a.m. Thursday, Feb. 9, campus will be alive with snow sculptors and plenty of visitors to view their handiwork. Music, food and fun stretch into the small hours of the morning.
The statues are at their pristine best Thursday through Saturday, Feb. 9-11, when visitors flock to campus. Horse-drawn sleigh rides are available all three days starting at 9:30 a.m. Sled dog rides begin at 11 a.m. Friday and 10 a.m. Saturday, with sled dog races set for 10 a.m. Saturday. Sleigh rides and sled dog events are headquartered at Douglass Houghton Hall.
The Admissions Office holds campus tours on Friday, Feb. 10, starting at 8:30 a.m., and on Saturday, Feb. 11, starting at noon. The Van Pelt and Opie Library will host a hot chocolate warm-up and book sale on Saturday, Feb. 11, starting at 11 a.m.
There's plenty more to see and do during Carnival season. Here's what's on tap:
Ice Fishing Contest, Feb. 4
Prizes are awarded for the three heaviest Northern pike and walleye plucked from the waters of Chassell Bay starting at 8 a.m. Saturday, Feb. 4. Download a registration form from the Blue Key website.
Winter Carnival Queen Talent Competition and Coronation, Feb. 4
Eight contestants will vie for the Winter Carnival Queen title on Saturday, Feb. 4, at the Rozsa Center. The talent portion of the competition begins at 7 p.m., and the winner is crowned at the end of the evening. The winner is chosen by a vote of the campus and the community.
Beards Competition, Feb. 9
Students have been growing their facial hair since Nov. 30 and will be judged on a variety of factors, including "overall creativity in presentation." The contest is set for 1 p.m. ,Thursday, Feb. 9, in Room 135 of Fisher Hall.
Stage Revue, Feb. 9
You'll never see anything like the Stage Revue on Broadway. Student groups have been working for weeks to put together the productions known on campus as skits. The Stage Revue show will be held Thursday, Feb. 9, in the Rozsa Center at 7 p.m.
Hockey, Feb. 10-11
Michigan Tech will face off against Nebraska Omaha at the MacInnes Student Ice Arena at 7:07 p.m. Friday and 5:07 p.m. Saturday.
Bigfoot Snowshoe Event
This community snowshoe get-together starts at 8:30 a.m., Saturday, Feb. 11, in the multipurpose room of the Student Development Complex. For more information, email Amber Dessellier at adessel@mtu.edu.
Torchlight Parade, Fireworks, Feb. 11
Torchbearers ski down the slopes of Mont Ripley Saturday at 8:30 p.m., followed by a fireworks display at 9 p.m.
Comedian Bo Burnham, Feb. 11
The star of "Zach Stone is Gonna Be Famous" comes to the Rozsa Center at 9 p.m. Parents might want to get a babysitter for the kids.
Snow Ball, Feb. 11
Winter Carnival's last dance begins at 9 p.m. in the Memorial Union Ballroom.
Throughout Carnival, student groups compete with a surprising level of ferocity in a number of sports you won't see just anywhere. Stop by and check them out at the places and times below.
Curling—Calumet Drill House
Stones, brooms, the whole bit
6 p.m., Friday, Feb. 3
10 a.m., Saturday, Feb. 4
10 a.m., Sunday, Feb. 5
Cross-country skiing—Michigan Tech Trails
1 p.m., Saturday, Feb. 4
Skating—Dee Stadium
8 a.m., Saturday, Feb. 4
Broomball—Campus rinks
Michigan Tech's signature intramural sport
9 p.m., Tuesday, Jan. 31
10:30 p.m., Wednesday, Feb. 1
9:30 p.m., Thursday. Feb. 2
9:30 p.m., Tuesday, Feb. 7
Snow volleyball—Practice fields near the Student Development Complex
Beach volleyball, without the beach
10 a.m., Saturday, Feb. 4
10 a.m., Sunday, Feb. 5
10 a.m., Friday, Feb. 10
Ice bowling—Dee Stadium
9 p.m., Tuesday, Jan. 31
10:30 p.m., Wednesday, Feb. 1
9:30 p.m., Thursday, Feb. 2
9:30 p.m., Tuesday, Feb. 7
Yooper Sprint—SDC practice fields
A hybrid of snowshoe and ski races
11 a.m., Saturday, Feb. 4
Human dog sled races—SDC practice fields
Without the dogs . . .
11 a.m., Friday, Feb. 10
Tug-o-War—SDC practice fields
11 a.m. Friday, Feb. 10
Downhill skiing—Mont Ripley
12:30 p.m., Friday, Feb. 10
Snowboarding—Mont Ripley
3 p.m., Friday, Feb. 10
Michigan Technological University is a public research university, home to more than 7,000 students from 60 countries. Founded in 1885, the University offers more than 120 undergraduate and graduate degree programs in science and technology, engineering, forestry, business and economics, health professions, humanities, mathematics, and social sciences. Our campus in Michigan's Upper Peninsula overlooks the Keweenaw Waterway and is just a few miles from Lake Superior.