Michigan Tech Climbs in US News Rankings
By Marcia Goodrich | Published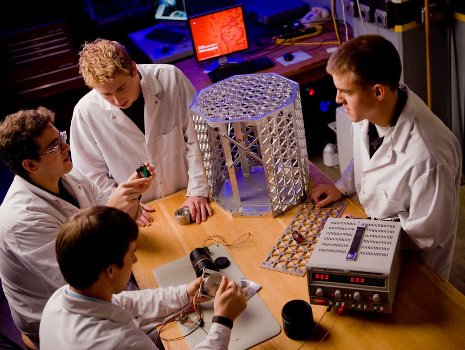 Michigan Technological University is listed among the top universities in the nation in US News & World Report's 2012 edition of "Best Colleges."
Now ranked 115, Michigan Tech continues its climb on the list, a spot it shares with Washington State University, Howard University in Washington, DC, and the University of St. Thomas in Minnesota.
"We can't infer too much from a small change in our ranking, but it is going in the right direction, from 121 in 2010, to 117 in 2011, to 115 today," said Michigan Tech Provost Max Seel. "We are making progress toward our goal of becoming a premier technological research university." Among the nation's public universities, Michigan Tech was ranked 57, the same as in 2011.
Also, Michigan Tech made the "Best Colleges" list of top US engineering schools whose highest degree is a doctorate. Tech was ranked 66, up from 74 in 2011. "It's gratifying to be recognized by our peers as one of the leading engineering programs," said Tim Schulz, Michigan Tech's dean of engineering.
In addition, Tech was included among the "A-Plus Schools for B Students," a category comprising top-quality universities that also admit a significant proportion of students with ACT scores between 20 and 30. "This speaks to the attention our undergraduate students are receiving," said Seel. "It highlights the level and quality of our education and is an important indicator of student satisfaction."
Rankings don't tell the whole story, he added. "While we appreciate the recognition from US News, we know that the best measure of our success is the success of our graduates," Seel said. "Employers recognize the value of a Tech education. We already have 225 companies signed up to recruit our students during the upcoming fall Career Fair, up from 160 a year ago, so we can expect to surpass last year's placement rate of 87.5 percent."
Michigan Technological University is a public research university, home to more than 7,000 students from 54 countries. Founded in 1885, the University offers more than 120 undergraduate and graduate degree programs in science and technology, engineering, forestry, business and economics, health professions, humanities, mathematics, and social sciences. Our campus in Michigan's Upper Peninsula overlooks the Keweenaw Waterway and is just a few miles from Lake Superior.