Business School Dedicates LSGI Trading Room
By Jennifer Donovan | Published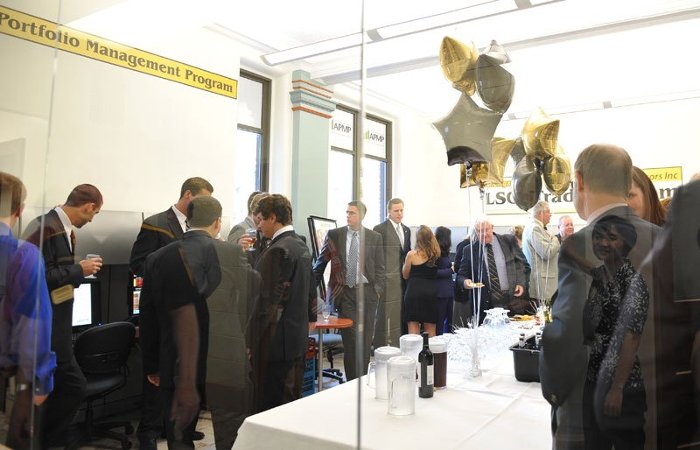 "A great program finally has an appropriate and wonderful home," says Darrell Radson, dean of the School of Business and Economics at Michigan Technological University. He is talking about the new LSGI Trading Room, which was dedicated Oct. 7. It will house the Applied Portfolio Management Program (APMP).
The LSGI Trading Room was made possible by the generosity of Joe and Vickey Dancy. Joe, a 1976 Michigan Tech alumnus, is president of LSGI Advisors Inc., a venture fund organization.
APMP, mostly comprised of finance majors, is the School's long-time success story, winning three national competitions in just over a decade while allowing students to invest more than $1 million of real money in the stock market.
For Dancy, the choice was easy.
"The unique thing about APMP is that the students have more responsibilities and decision-making than other similar programs," he said. "They go to the national competitions and do so well against many other teams. The students are making all the decisions, and I love the diversity. We've had students from different countries, female members, and there have been volleyball, hockey, basketball and football players."
One such football player this year is Pat Carroll, wide receiver for the Michigan Tech Huskies.
"The room is awesome," he says. "We are lucky to have this place and get this great experience."
Carroll transferred from Purdue because they didn't have an APMP program. Besides being at the dedication, he had been busy prepping for his first Advisory Board meeting with Dancy and others.
"We have to pitch our idea," he explained. "We have to say why they should trust us with this money to manage, just like real life. We have to justify our strategy." The next day, Carroll reported, "It was a little nerve-racking. But we did pretty well and received a whole bunch of great criticism from the board members."
So, what's new with the new room?
"The addition of Bloomberg TV gives our students the same advantages as industry professionals," says Dean Johnson, associate professor of finance and the founder and advisor to APMP. "We are the only educational institution in the UP with these improved trading capabilities. In addition to investing, students can also use its job line. It is a job-matching feature on a private line."
Johnson said the students also appreciate the bright, window-walled room, which features more space, privacy and elbow room.
Student Anne Dancy (Joe and Vickey's daughter and an APMP member) especially appreciates the increase in space.
"We'll be able to do more teamwork and use all our resources to become even more successful," she said.
Michigan Technological University is a public research university, home to more than 7,000 students from 54 countries. Founded in 1885, the University offers more than 120 undergraduate and graduate degree programs in science and technology, engineering, forestry, business and economics, health professions, humanities, mathematics, and social sciences. Our campus in Michigan's Upper Peninsula overlooks the Keweenaw Waterway and is just a few miles from Lake Superior.