Who Says You Can't Walk -- or Run -- on Water?
By Jennifer Donovan | Published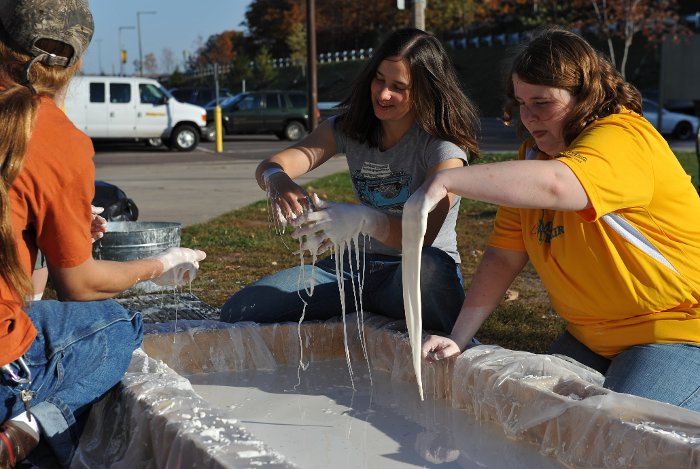 Kids of all ages will never forget the Einstein Project Science Expo in Green Bay, held on January 15, 2011. That's when they had a chance to dash or dance over the surface of a non-Newtonian liquid called oobleck, a sticky white substance that grabbed their feet and held them fast if they dared to slow down.
Oobleck is just one of the exciting hands-on science experiences that a high-energy band of students and staff from Michigan Technological University used to demonstrate what a blast science can be. The Michigan Tech MIND TREKKERS brought one of nearly 60 do-it-yourself science exhibits to the annual expo this year.
Visitors to the MIND TREKKERS' booth also had a chance to taste liquid nitrogen ice cream and to make their hair stand on end by touching a Van de Graaff generator. They chewed up graham crackers frozen in liquid nitrogen and blew "dragon's breath" at each other.
The Expo also featured stage shows on the Omnova Main Stage, including Professor Gizmo's Feats of Science and Discovery World's Fire and Ice Show.
Projects entered in the Ameriprise Science Fair also were on display. Michigan Tech is providing full- ride 2011 Summer Youth Programs scholarships to the winners of the Science Fair.
Michigan Technological University is a public research university, home to more than 7,000 students from 54 countries. Founded in 1885, the University offers more than 120 undergraduate and graduate degree programs in science and technology, engineering, forestry, business and economics, health professions, humanities, mathematics, and social sciences. Our campus in Michigan's Upper Peninsula overlooks the Keweenaw Waterway and is just a few miles from Lake Superior.