AACSB Extends School of Business and Economics Accreditation
By Dennis Walikainen | Published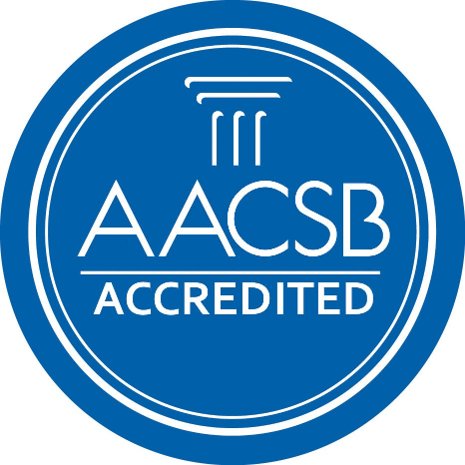 The Association to Advance Collegiate Schools of Business (AACSB) International has extended the accreditation of Michigan Technological University's School of Business and Economics for five years.
AACSB accreditation is the hallmark of excellence in business education. It has been earned by less than five percent of the world's business schools. Today, there are 620 business schools in 38 countries that maintain AACSB accreditation.
"I am very proud of our faculty and staff who continuously work hard to maintain this distinct level of quality in business education," said Darrell Radson, dean of Michigan Tech's School of Business and Economics. "This accomplishment confirms our initiatives designed to meet the needs of business as we educate our students to be leaders in innovation, entrepreneurship and technology management to impact our nation and the global economy."
The School of Business and Economics first received AACSB accreditation in 2001 and recently completed its second rigorous internal review and evaluation process. AACSB accreditation standards require a high-quality teaching environment, a commitment to continuous improvement and curricula responsive to the needs of businesses.
"This accreditation extension affirms the high regard that academic leaders have for Michigan Tech," said President Glenn Mroz. "The School of Business and Economics has worked hard to achieve this level of quality instruction, scholarship and research."
AACSB International, founded in 1916, is an association of more than 1,200 educational institutions, businesses and other organizations in 78 countries and territories. AACSB's mission is to advance quality management education worldwide through accreditation, thought leadership, and value-added services. AACSB's global headquarters is located in Tampa, Florida, USA and its Asia headquarters is located in Singapore. For more information, please visit www.aacsb.edu.
Michigan Technological University is a public research university, home to more than 7,000 students from 54 countries. Founded in 1885, the University offers more than 120 undergraduate and graduate degree programs in science and technology, engineering, forestry, business and economics, health professions, humanities, mathematics, and social sciences. Our campus in Michigan's Upper Peninsula overlooks the Keweenaw Waterway and is just a few miles from Lake Superior.