WCHA Names Eli Vlaisavljevich Outstanding Student-Athlete of the Year
Last Modified 4:26 PM, June 16, 2016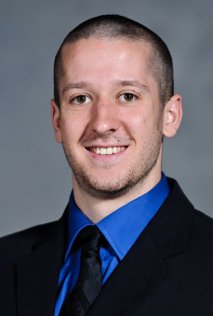 Michigan Tech Huskies hockey player Eli Vlaisavljevich has been named WCHA Outstanding Student-athlete of the Year
March 19, 2010—
Michigan Technological University senior Eli Vlaisavljevich was named the WCHA Outstanding Student-Athlete of the Year, the league announced on March 18. Vlaisavljevich joins Geoff Sarjeant (1992) as the only Huskies ever to earn the award.
Vlaisavljevich, a senior defenseman from Shoreview, Minn., has been named a WCHA Scholar-Athlete three times and to the All-WCHA Academic Team three times during his collegiate career at Michigan Tech. He currently carries a 4.0 cumulative grade-point average in biomedical engineering.
Vlaisavljevich is also among 10 finalists for the Lowe's Senior CLASS Award for 2009-10. He has been awarded the prestigious Goldwater Scholarship and the Michigan Tech's Provost Award for Scholarship, and he was named to the ESPN the Magazine Academic All-District First Team. He helps in severalelementary classrooms, is a mentor with the Michigan Tech Athletics Koaches Kids Program and volunteers with the Copper Country Junior Hockey Association.
Vlaisavljevich appeared in 111 career games for the Huskies, earning 10 points with three goals, seven assists.
The WCHA Outstanding Student-Athlete of the Year Award is determined from nominations made by the member institutions, and each institution has one final vote. The criteria include: 1) must be a senior student-athlete, i.e. one who is finishing his competition as an eligible player in the WCHA; 2) consistently displays outstanding sportsmanship on and off the ice; 3) is a good student making satisfactory progress toward a degree; and 4) is a good hockey player who has performed consistently as a regular member of the team.
Michigan Technological University (www.mtu.edu) is a leading public research university developing new technologies and preparing students to create the future for a prosperous and sustainable world. Michigan Tech offers more than 120 undergraduate and graduate degree programs in engineering; forest resources; computing; technology; business; economics; natural, physical and environmental sciences; arts; humanities; and social sciences.