Michigan Tech, Portage Health Lauded by the Peace Corps
By Marcia Goodrich | Published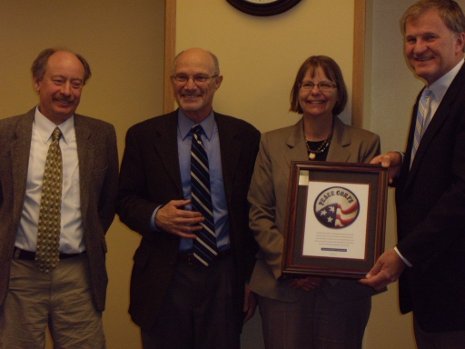 Michigan Technological University has the largest Peace Corps Master's International Program (PCMI) in the nation, with 55 students enrolled in seven programs. But it wasn't just the quantity of volunteers that brought the national manager of the PCMI program to the University Tuesday, March 30. It's also their quality.
"We're fortunate to have Michigan Tech people involved in Peace Corps," said Eric Goldman. "They are premier Peace Corps volunteers, and we extend our thanks to you for what you have created. It's astonishing."
"No one comes close to your commitment and accomplishment," he said. "Not only are you highly regarded at Peace Corps, but there are countries around the world that want Michigan Tech Peace Corps volunteers."
Goldman also expressed Peace Corps' gratitude to Portage Health, which provides a discount of up to 30 percent toward the cost of Michigan Tech's PCMI students' medical examinations. "To be a Peace Corps volunteer requires a rigorous medical process," said Goldman. "It's a considerable expense, and Peace Corps only provides a small amount. I don't know of anyone besides Portage Health who has done this. It's a fantastic example of corporate social responsibility."
Under the direction of forestry professor Blair Orr, Michigan Tech started its first PCMI program in 1995, the Loret Miller Ruppe Master's International Program in Forestry. Since then, a total of 155 students have enrolled and six more programs have been established, in applied natural resource economics, natural hazards mitigation (geology), civil and environmental engineering, science education, rhetoric and technical communication, and mechanical engineering.
President Glenn Mroz accepted a plaque from Goldman that expresses the Peace Corps' appreciation to the University community. It reads, "Your extraordinary commitment to, and accomplishment in, the Master's International program has made significant contributions to the lives of thousands of people around the world."
Volunteer Julie Herrick had recently returned from her Peace Corps assignment in Panama and is completing her master's. For her, the program offered a way to conduct research and get involved in community service. "I wanted a practical way to apply what I knew as a geologist in context. It was a commitment," she said. "But it was the right way to go about this."
Mroz was involved with the program from the start and recalled the first class heading out to Camp Alberta, where they learned "guts forestry" in preparation for their Peace Corps assignment. "From those five students, we've grown to the largest program in the US," he said.
The program also benefits the University by bringing a diverse mix of students to campus, where they undergo two semesters of intensive academic preparation before entering Peace Corps. "It's not high paying," Mroz said. "But as an experience, Peace Corps is priceless. They learn that you can make a significant impact on people's lives for a long time to come."
Both Mroz and Goldman emphasized the role Orr has played in establishing and nurturing Michigan Tech's Peace Corps program and noted his tenacity and willingness to speak his mind. "Blair is an absolute blessing," said Goldman. "He does a superb job of keeping the Peace Corps honest."
Michigan Technological University is a public research university, home to more than 7,000 students from 54 countries. Founded in 1885, the University offers more than 120 undergraduate and graduate degree programs in science and technology, engineering, forestry, business and economics, health professions, humanities, mathematics, and social sciences. Our campus in Michigan's Upper Peninsula overlooks the Keweenaw Waterway and is just a few miles from Lake Superior.