Michigan Tech Helps Those Who Help Others
By Dennis Walikainen | Published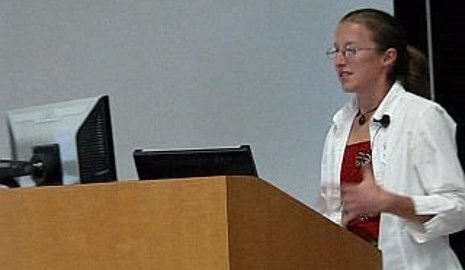 Michigan Technological University has established a new fellowship program for graduate students who have served in the Peace Corps, AmeriCorps or the military. So far, the University has awarded 10 fellowships.

In its first semester of operation, the National Service Graduate Fellowship covers as much as 30 percent of tuition, but its benefits extend beyond financial assistance.

"Through this program, we are getting more nontraditional students to campus who bring a different perspective to the classroom," said Blair Orr, a professor in Michigan Tech's School of Forest Resources and Environmental Science. "They have a lot to contribute from their experiences."

Orr is in charge of Tech's Peace Corps Master's International program, one of the three programs involved in the initiative.

Lt. Col. Kerry Beaghan, professor of aerospace studies and head of the Air Force ROTC, agrees that the type of student the program attracts is "very atypical."

"They're older military personnel, who maybe tried college earlier in their lives," she says. "Or they might have enlisted right out of high school, and now they are interested in an education and must juggle family and school and financing. This program helps them."

For the military personnel, the new post-911 GI Bill includes a housing allowance at some schools and, depending on the level of the service, their spouses or children might also benefit from the tuition reduction, Beaghan says.

In planning for the military component of the fellowship, Beaghan credits Dallas Eubanks, former head of Michigan Tech's Army ROTC, for his help in crafting this new program.
"We had to decide whom do we include and what to include," she explains.

Natiffany Mathews, a master's student in industrial archaeology, did her AmeriCorps service on the New Mexico/Texas border, in poor school districts, and she chose Michigan Tech because of the fellowship and the opportunity to teach and do research.

"It's been a different type of experience--awesome--especially the teaching," she says. "With college courses, we are constantly changing things up. It's very dynamic."

Overall, the fellowship was paramount for her. "I don't think I could have come here without it," she says. "We needed the extra funding, and my husband was having trouble finding work here. We had expenses moving here, too."

She had visited the area previously and fell in love with the people and Michigan Tech's industrial archaeology program. She had high praise for Tim Scarlett, associate professor of social science and head of industrial archeology studies. Another draw: Tech treated her fairly and timely manner. "Another school never returned my phone calls," she recalls, "and was always slow responding to emails."

Jacque Smith, director of marketing for the Graduate School, says the fellowship fills a gap. "Graduate students in programs that focus primarily on career preparation, instead of research, often have to fund more of their education themselves. As the costs keep increasing, it can become harder for these students to attend grad school."

Mariah Maggio, who was in the Peace Corps Masters International Program and is a recipient of a fellowship, didn't have any viable options to return to graduate school two years after her volunteer service in the Philippines ended.

"With the limited financial resources resulting from life as a Peace Corps volunteer, followed by work with a grassroots international organization, the fellowship was a decisive factor in my being able to enroll in Tech's environmental policy master's program," she explains.

Maggio is thankful that the fellowship recognizes her service. Also, she adds, being a returned Peace Corps volunteer on the campus is a very rich experience because of the community and camaraderie that exist among those who have volunteered.

"You can not only reflect on your experience with fellow returned volunteers, but you also engage with prospective volunteers and really build on the work the Peace Corps is doing," she says.

"We are fortunate that Tech recognizes returned Peace Corps volunteers as eligible candidates for the fellowship," Maggio adds. "To be valued after volunteering in such a way that supports returning to graduate school is an amazing initiative of this University and reinforces the ideal that Michigan Tech is playing an important role in fostering leaders for a global future."

Jacqueline Huntoon, Graduate School dean, says the fellowship helps the University achieve its strategic plan, which includes an effort to attract students who bring diverse perspectives to the campus and the program.

"They demonstrate to others the opportunities for providing service to their communities, the nation and the world," she concludes.
Michigan Technological University is a public research university, home to more than 7,000 students from 54 countries. Founded in 1885, the University offers more than 120 undergraduate and graduate degree programs in science and technology, engineering, forestry, business and economics, health professions, humanities, mathematics, and social sciences. Our campus in Michigan's Upper Peninsula overlooks the Keweenaw Waterway and is just a few miles from Lake Superior.