Michigan Tech Research Institute Image Analyst Receives Top Honor in Field
By Jennifer Donovan | Published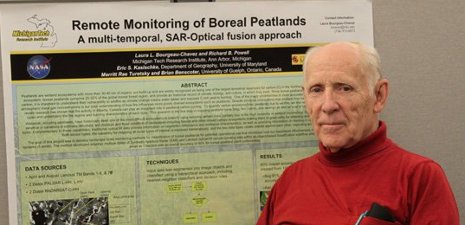 Chuck Olson has been doing image interpretation and analysis for more than half a century. Now the senior image analyst at the Michigan Tech Research Institute (MTRI) in Ann Arbor has been recognized for his contributions with one of the highest honors his professional society can confer: Honorary Member of the American Society for Photogrammetry and Remote Sensing (ASPRS).
"This is a very big deal," said Colin Brooks, research scientist and manager of the Environmental Science Laboratory at MTRI. "It is ASPRS's highest award, and there are only 25 honorary members at any one time."
The lifetime award is given to recognize individuals who have rendered distinguished service to ASPRS or who have attained distinction in advancing the science and use of geospatial information. Olson qualifies on both counts.
He has been a member of ASPRS and its predecessor organization, the American Society of Photogrammetry, since 1956. He has presented many workshops for ASPRS on remote sensing of vegetation and thermal remote sensing, and he has had numerous papers published in the journals Photogrammetric Engineering and the International Archives of Photogrammetry. He received the ASPRS Presidential Citation for Meritorious Service several times and the prestigious Ford Bartlett Award. Olson was elected an ASPRS fellow and served as national director from the Eastern Great Lakes Region. He also began an oral history project, completing 56 interviews, several of which became the basis for a "Reflection of the Past" series in the society's journal, PE&RS.
Olson taught and did research at universities for more than four decades, first at the University of Illinois and then at the University of Michigan, while also serving in the US Naval Reserve. One of his mobilization assignments was as deputy director of the Armed Forces Air Intelligence Training Center at Lowry Air Force Base in Colorado. He retired from the Navy in 1987 with the rank of captain and from the University of Michigan as professor emeritus of natural resources in 1999.
Olson joined MTRI to serve as an image analysis consultant and to conduct image analysis tutorials for MTRI interns. One of his recent projects involved using air photos to locate vernal pools at Pictured Rocks National Lakeshore, research led by Rod Chimner from Michigan Tech's School of Forest Resources and Environmental Science.
"My association with MTRI has been a rewarding one for me," said Olson. "It provides me with a chance to share my experience with others, while learning from them things they know more about than I do."
Olson will receive the ASPRS award at the society's 2010 annual conference in San Diego.
Michigan Technological University is a public research university, home to more than 7,000 students from 60 countries. Founded in 1885, the University offers more than 120 undergraduate and graduate degree programs in science and technology, engineering, forestry, business and economics, health professions, humanities, mathematics, and social sciences. Our campus in Michigan's Upper Peninsula overlooks the Keweenaw Waterway and is just a few miles from Lake Superior.