Graduate Student Awards
Chao Liang
PhD Graduate Student
2016 Recipient
Graduate Student Outstanding Research Award
Samer A. Alokaily Graduate Student

2017 Recipient
Samer Alokaily was nominated by his advisors, Kathy Feigl and Franz Tanner. His research involves the development of computational models and use of numerical simulations to study the transport and mixing characteristic of peristaltic flow. Using the methods he developed, he studied the transport of material in the small intestines and stomach, as well as mechanic mixing in the stomach. This research is part of a relatively recent trend of studying the human body as a mechanical system. Samer was the co-author of two talks at international conferences, and has written drafts of two journal articles from his thesis.
---
Mustafa Gezek Graduate Student

2017 Recipient
Mustafa Gezek was nominated by Vladimir Tonchev. Mustafa did his dissertation research in design theory, conducting research on maximal 52-arcs in the projective planes of order 16. He found eight new maximal arcs, leading to the construction of non-isomorphic 2-(52,4,1) designs which were not known before. Some of the newly discovered arcs illuminate new connections between certain projective planes, and they also led to other new constructions, beyond the designs mentioned before. Mustafa presented his work at the 48th Southeastern International Conference on Combinatorics, Graph Theory & Computing, and is now writing the proceedings paper. He is also writing a paper for submission to a journal.
---
Samuel Judge Graduate Student

2017 Recipient
Samuel Judge was nominated by Fabrizio Zanello. He has made both rapid and truly outstanding progress in his research. He is less than three years past his bachelor's degree, but he has already finished two papers that are currently under review. His research is in partition theory, a difficult subject for which he has had to study lots of algebra, combinatorics, and even complex analysis. Among his other activities, Samuel has participated in Joe Gallian's Summer REU program as a Graduate Student Assistant.
---
Xiaoyu (Cassie) Liang Graduate Student

2017 Recipient
Xiaoyu Liang (Cassie) was nominated by Shuanglin Zhang. Cassie has been very productive in research. After less than four years in the program, she has published one paper in Scientific Reports in 2016 as first author. A second paper is now under review at the Annals of Human Genetics in March. She is currently working on her third project and they expect to submit the paper in Sep 2017.
---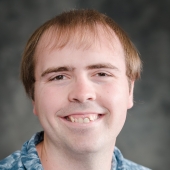 Joseph Reath
MS Graduate Student
2016 Recipient
The Midwestern Association of Graduate School annually solicits for the Excellence in Teaching Award in recognition of graduate students who exemplify excellence in the teaching/learning mission of the member universities.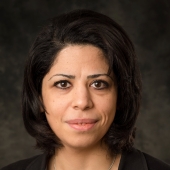 Elaheh Gorgin
PhD Graduate Student
2015 Recipient
Samer A. Alokaily Graduate Student

2017 Recipient
Awarded by the Graduate School
Samer has been a tremendous asset to the department over the past 6 years. He has grown into an excellent teacher and taught a wide range of courses from MA1030 through MA2160. He has been especially important part of the MA1030/1031 sequence. His sense of responsibility and his thoughtful approach to teaching this population of students has been impressive. Samer's students have commented that his teaching style is very informative, he takes the class through different types of problem that they will be exposed to and they are all worked through very clearly, step by step. He encourages questions in class and shows a great willingness to help students with their question, taking the time to explain problems in different ways until they understand. They also appreciate that he is good at writing well structured notes in class which he uploads online after class.
---
Nadun Dissanayake Graduate Student

2017 Recipient
Awarded by the Graduate School
Nadun has taught Calculus II and Precalculus. His students appreciate his enthusiasm and commitment to their learning. "Nadun is one of the best teachers I have ever had. He continues to go out of his way each and everyday to make sure all the students will pass the course. The handouts he posts in Canvas and videos he puts on Huskycast are super helpful. He is always willing to meet you and go over something you may not understand." The faculty who have observed him have commented on his enthusiasm and comfortable rapport with the students. He also goes out of his way to try new techniques to engage students.
---
Huanhuan (Sophie) Zhu Graduate Student

2017 Recipient
Awarded by the Graduate School
Sophie has taught a range of courses for the department,including Calculus I, Precalculus, and Engineering Statistics; she has also served as a lab coordinator. Her students give her high praise for her teaching style and organization, and for making sure students understand the topic before moving on. The faculty who have observed her commented on her excellent choices of examples to illustrate the material and her enthusiasm in engaging students.
---