Diana George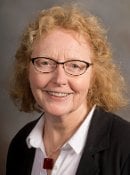 Contact
Emerita Professor of Humanities
Biography
I currently serve as Professor of Rhetoric & Writing and Director of the Virginia Tech Writing Center after six years of having redesigned and directed Virginia Tech's first-year writing program.
From 1977-2005, I taught at Michigan Technological University, where I served as Director of Writing Center Tutoring and Instruction; Director of First-year English; Director of GTA Education; and Chair of MTU's University General Education Council (1998-2000). During that time, I taught undergraduate courses as varied as British Novel, the three-quarter sequence of Science and Humanities, Art Appreciation, and First-year Writing. As a part of the inaugural faculty in the PhD program Rhetoric and Technical Communication, I designed and taught Composition Theory, Visual Rhetoric, and Composition and Cultural Studies. With Nancy Grimm and Ed Lotto, I served as co-editor of Writing Center Journal (1990-1994). My scholarship reflects what, by some, must seem a kaleidoscope of interests: Composition pedagogy; visual studies; and alternative rhetorics — all with a special attention to marginalized voices.
Links of Interest
Specialties
Rhetoric and Writing
Visual Theory and Rhetoric
Composition Studies
Writing Center Studies
Rhetoric in Society
Recent Publications
George, Diana, Tim Lockridge, and John Trimbur, "Cultural Studies and Composition." A Guide to Composition Pedagogies. Eds. Gary Tate, Amy Rupiper Taggart, Kurt Schick, H. Brooke Hessler. 2nd edition. New York, NY: Oxford University Press, 2013: 94-110.
George, Diana and Paula Mathieu. "A Place for the Dissident Press in a Rhetorical Education: 'Sending Up a Signal Flare in the Darkness." John Ackerman and David Coogan, eds., The Public Work of Rhetoric: Citizen Scholars and Civic Engagement, University of South Carolina Press, 2010.U of South Carolina P, 2010: 247-266.
Mathieu, Paula and Diana George. "Not Going it Alone: Public Writing, Independent Media, and the Circulation of Homeless Advocacy," College Composition and Communication 61.1 (September 2009): 156-175.
George, Diana. "From Analysis to Design: Visual Communication in the Teaching of Writing," College Composition and Communication 54.1 (2002): 11-39.