Carlos Jorda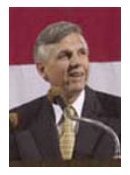 BS Chemical Engineering 1971
Carlos E. Jorda, a native of Venezuela, graduated from Michigan Tech with a bachelor's degree in chemical engineering in 1971. Ever since, he has worked in the petroleum industry.

He began his career as a process engineer at a refinery owned by Creole Petroleum Corporation, a subsidiary of Exxon, and he quickly moved into management. After the Venezuelan petroleum industry was nationalized, he worked in many technical and managerial positions for the state-owned oil company, Petroleum of Venezuela, which owns CITGO Petroleum. In 2002, he led Petroleum of Venezuela's US interests, becoming chairman of the board of CITGO and president of Petroleum of Venezuela. He retired this year.

Jorda has headed strategic associations among several international oil companies that undertook investments in Venezuela, which is the largest oil supplier outside of the Middle East. He provides leadership to Michigan Tech's International Advancement Program, which seeks to reconnect with alumni around the world. He also is on the National Advisory Board for Michigan Tech's School of Business and Economics.

In 2003, Jorda received the Michigan Technological University's Board of Trustees Silver Medal.