Bonnie Klamerus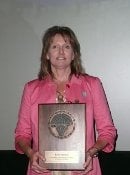 MS Civil Engineering 1991
BS Civil Engineering 1983
Civil Engineering Graduate Was a Leader on Hoover Dam Bypass
Alumna Bonnie Klamerus is winding down duties associated with the hardest work she's ever done: being the structures manager for a new bridge, completed late last year, that spans the Colorado River and links Arizona and Nevada, a quarter of a mile downstream from the grand and storied Hoover Dam.
Klamerus is busy archiving documents about the design and construction of the structure and the highway approaches on either end. Then she will move on to smaller jobs—building bridges on federal land west of the Mississippi. She says that nothing she does will compare to the Hoover Dam Bypass, which is comprised of the bridge and two roadways, one 1.5 miles long on the Arizona side, and the other 2.5 miles on the Nevada side. "It was a lot of difficult work just to get to the bridge site," she says. "You could not walk from one end of the job to the other when we started."
The project has been called "an American triumph." Klamerus says it was "a bridge engineer's dream." It was also a difficult operation, what she calls "a different beast." The roadblocks were intense heat, high winds, perilous heights, and forbidding terrain.
The span is called the Mike O'Callaghan-Pat Tillman Memorial Bridge. O'Callaghan was a former Nevada governor, and Tillman was an Arizona Cardinals football star who famously quit professional sports, joined the army, and was killed in Afghanistan.
The bridge that bears their names is 1,900 feet long, spans Black Canyon, and perches 900 feet above the Colorado River. It's an 1,100-foot-long concrete arch—among the biggest, longest, and highest of its kind. It's on US Highway 93, the main route between Phoenix and Las Vegas and on to Canada. It's meant to be a bypass from a road that passes over the dam and is characterized by hazardous switchbacks and congestion, and is a security concern.
The Hoover Dam, which forms Lake Mead on the west end of the Grand Canyon, was completed in 1935, an engineering landmark that rose out of the Great Depression. Plans for a highway bypass began in 1965; work on the approaches began in 2001; work on the bridge began in 2005; and work ended in October of 2010.
The entire project took 2,000 workers. The cost of the bridge was $114 million. The total cost of the project, which includes the design and construction of the main structure, seven other smaller bridges, the approach roadways, and a pedestrian plaza, was $240 million. In 2006, a temporary tower, 300 feet high, that supported a high-line cable system crossing the canyon—used to deliver men and material—collapsed in a wind storm. It was the contractor's issue; not the overseers' fault. Nobody was injured, but the mishap stalled the bridge construction by about two years. Other work continued, however, and the project ultimately came in on budget.
Klamerus, a native of Baraga, Michigan, works in Lakewood, Colorado, and is a structural engineer for the Central Federal Lands Highway Division, a unit of the Federal Highway Administration (FHWA). She was "intimately involved" in the bypass, from the beginning of design to end of construction. As structures manager, she worked on a three-person team to determine the plans, specifications and estimates and aesthetic features, as well as coordinating the work of contractors, consultants, and agencies, including the Arizona and Nevada Departments of Transportation, the Bureau of Reclamation, the National Park Service, and the Western Area Power Administration. In 2003, she and her family moved from Colorado to Nevada as part of the construction management team.
She approached the job gamely. "It was pretty darn hard," she says. "Daunting. It was the biggest challenge I've ever had. I was scared and worried. I was not sure I was going to be able to do it, but I had a great boss who mentored me and a team of the best in the world."
Speaking is someone who has followed in the footsteps of her father, Ron Kamarainen '60, a civil engineer with the Michigan Department of Transportation, who would take her as a child to view his projects and help him with local surveying work. "I'd be his stake pounder," she recalls.
Not surprisingly, then, she enrolled at Michigan Tech and earned a bachelor's and a master's in civil engineering, in 1983 and 1991, respectively. She has worked at FHWA since 1983.
She says that, as a woman in engineering, good work has trumped gender bias. "When people see that you know what you're talking about, you fit in."
Besides a good education, she brought to her career "persistence and hard work"—what she calls "Upper Michigan traits and Michigan Tech traits"—plus "a lot of good people around me." Drive has always been her bedrock. "I get a lot of satisfaction from hard work—at home or on the job. Seeing something done well." She strives to "do my best and to be balanced."
She has three children, ages 8 to 24. The bridge and bypass have been a crowning achievement in her life—second only to her kids.
Growing up in Baraga and studying at Tech, she never envisioned doing such work. "You can never fathom the future," she says, "but nobody should ever count it out."